Another delivery of Rolls Royce Gem engines
June 6, 2017 1:29 pm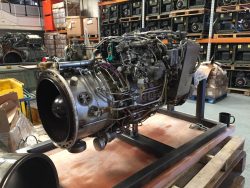 We probably have the largest privately owned collection of Rolls Royce Gem engines available anywhere.  These engines powered the famous Lynx helicopters.  The 1000+ SHP engine is extremely compact and has the additional benefit of a built-in free power turbine reduction gearbox which delivers 100% throttle @ 6000RPM.
We have developed a basic engine frame and a comprehensive control box system with a range of optional instruments so we can supply anything from a basic engine to a complete turnkey running engine ready to drop into your next project.
Give Harry a call on 07768 004488 to discuss your requirements.